We are proud to use our collective power to negotiate and partner with our signatory contractors to provide the best member benefits in the building and construction trades.
THE UNION ADVANTAGE
Workers should be able to join unions to make their workplaces better and to negotiate for the wages and benefits they deserve. LIUNA promotes safety, health, and a better standard of living for its members. The collective bargaining process gives workers a voice in their pay, working conditions, and benefits. While national union membership is falling, Minnesota's union growth is at its highest in the last 14 years, largely due to new organizing efforts and federal infrastructure funding.
STATE-OF-THE-ART EDUCATION
LIUNA's Registered Apprenticeship Program trains people from around the state to become highly skilled, well-paid construction workers through a debt-free, state-of-the-art education. LIUNA is proud to operate Minnesota's largest and most diverse skilled construction apprenticeship program. At our training center in Lino Lakes - which has recently doubled in size to meet the demands of the industry - we work with more than 800 union contractors to enhance worker skills and promote workplace safety. Our apprentices earn while they learn and train while they work, receiving family-supporting wages, healthcare, and retirement benefits. Building and Construction Trades unions in Minnesota offer age-appropriate and safe career exploration and exposure programs for youth to meet industry workforce needs.
Learn More to Build Your Future with LIUNA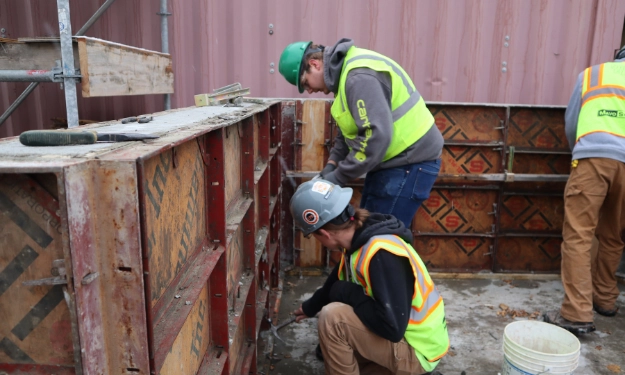 LABORERS' HEALTH/WELFARE AND PENSION FUND
Freedom is more than just making a living; it's about having time to take a loved one to the doctor, attend a conference at our kids' school, and retire with dignity. Using our collective power, we can negotiate fair wages, affordable healthcare, and retirement security for our families.
The Minnesota Laborers Health and Welfare Fund (the Fund) welcomes you to the Benefit Program offered to all eligible Plan Participants.
The Fund utilizes the Blue Cross Blue Shield of Minnesota Preferred Provider Network for medical care and the Delta Dental Provider Network for dental care.
Click here to see a complete list of benefits and services available to Laborers' Fund participants.
No cost healthcare for Minnesota Laborers Health and Welfare Fund members!
Participant Edge - 24/7 access to your benefit information
Participant Edge is a convenient online resources portal, specifically customized to provide you the tools needed to view and manage plan(s) information.
Download FAQs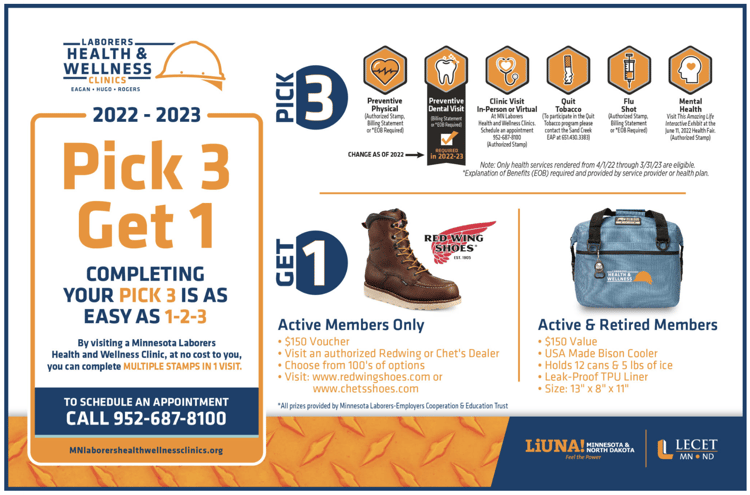 Complete three of the following tasks between April 1st, 2022 and March 31st, 2023 to receive your choice from the 'Get 1' category.
Pick 3
Preventive Physical
Preventive Dental Visit (Required)
Clinic Visit In-person or Virtual at a MN Laborers Health and Wellness Clinic.
Quit Tobacco
Flu Shot
Mental Health
Get 1
Get a voucher good towards a pair of Red Wing boots or a Bison Cooler
Learn More About Pick 3 Get 1
Employee Assistance Program
Our highly-valued Employee Assistance Program (EAP)
The Fund's highly-valued Employee Assistance Program (EAP) is administered by Sand Creek, one of the companies of AllOne Health®. This is one of the most esteemed EAP programs in the United States. Sand Creek/AllOne Health has an overall workplace wellness focus and offers a wide range of services at both the Fund level and to individual participants.
Learn more about our Employee Assistance Program
Be the first to hear about LIUNA career events and opportunities.
Sign up here to get alerts about upcoming job openings, career fairs, and ways to connect with employers.