LIUNA operates Minnesota's
largest and most diverse skilled construction Registered Apprenticeship Program
BUILD YOUR FUTURE AS A LIUNA APPRENTICE
We partner with more than 835 union contractors to provide approximately 150,000 training hours per year at our training center in Lino Lakes. Together, trade unions, private contractors, schools, government and community partners are committed to building on this progress: to recruit and retain a stronger, local and more diverse skilled construction workforce to build the infrastructure fueling Minnesota's economic prosperity.
Registered Apprenticeship Programs are one of the most effective tools to advance inclusion in the construction industry.
With our partners in the Building and Construction Trades, LIUNA Minnesota and North Dakota is committed to expanding union construction career opportunities.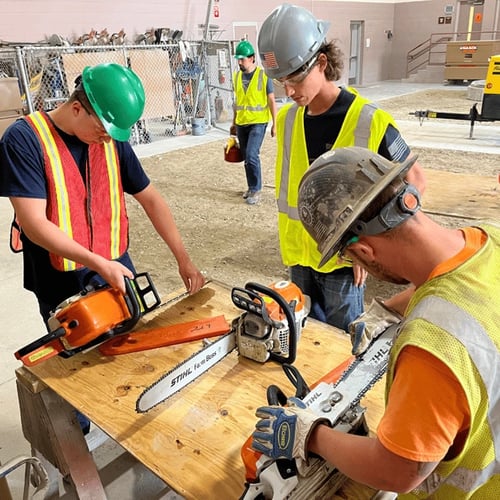 Apprenticeship Program
LIUNA's Apprenticeship Program is a state-regulated, mandatory program that benefits both LIUNA members and signatory contractors. Our certified instructors pass on their knowledge and skills to apprentices through continuing education. In addition to improving members' safety and productivity, the courses allow members to grow in knowledge and skills through classroom and on-the-job training.
Program Requirements
Must be a minimum of 18 years of age
May be required to pass a drug test
Need to have a good attitude and be willing to learn
Need to understand the importance of punctuality and good attendance
Must have reliable transportation
Provide a resume with your past work history and references
Dress appropriately as you would for work on a construction site
Upon beginning work for an Employer, join LIUNA and maintain membership in good standing
Attend Apprentice/New Member Orientation (Meetings are held the third Thursday of every month at 6:00 p.m. at the LIUNA Training Center) and regularly attend Local union meetings
Must complete 288 hours of training and 4,000 work hours over a three-year period
Must complete at least 100 hours of training per year.
Contact the Minnesota Laborers' Training Center
2350 Main Street
Lino Lakes, MN 55038

Phone: (651) 653-6710
Fax: (651) 653-9682

E-mail: info@ltcmn.org
Website: www.ltcmn.org
Become a LIUNA Apprentice
The first step to becoming a Laborer Apprentice is to obtain employment with one of our signatory contractors.
Levels of Apprenticeship
Each apprentice must complete 288 hours of training and 4,000 work hours over a three-year period. Apprentices must complete at least 100 hours of training per year
Class Schedules
LUNA Members should plan ahead to register for training early. Visit www.ltcmn.org for information about the Minnesota Laborers' Training Center (LTC) including course descriptions and the current training schedule. You can also contact the LTC Apprenticeship Office at 651-762-8235. To register for Skills & Safety classes, call the Registration Office at 651-653-6710. To register for Asbestos or Lead classes, call your Local Union Hall.
Click here to browse the courses offered.
Begin promptly at 7:00 am and end at 3:30 pm daily.
Begin promptly at 4:30 pm and end at 9:30 pm (Monday – Thursday).
8 hour classes are held for 2 evenings

12 hour classes are held for 3 evenings

16 hour classes are held for 4 evenings

24 hour classes are held for 6 evenings

32 hour classes are held for 8 evenings

40 hour classes are held for 10 evenings
Where should I start to become a LIUNA Laborer?
You can't afford to wait around for opportunities to come to you.
It's much better to take a proactive approach and explore your options.
What if your target company isn't hiring?
Does it still make sense to "apply" when no jobs are open?
Yes. Whether or not an official job opening exists, it makes sense to initiate a conversation when contacting a contractor you'd like to work for.
What's the point of applying if there's nothing open?
Career experts estimate that 70 to 80% of job openings are not advertised. There's still a chance, even if the company looks like it's not hiring. There may be positions coming up soon, and in some cases, new positions may be created.
Getting to know the contractor you want to work for may still pay off. You'll be top of mind when the right job comes along.
Be first to hear about LIUNA career events and opportunities.
Sign up here to get alerts about upcoming job openings, career fairs, and ways to connect with employers.
PROVEN IMPACT OF REGISTERED APPRENTICESHIP
Since the Minnesota Laborers Registered Apprenticeship program began in 1999, more than 4,000 apprentices have graduated.
During their four years of on-the-job training, union construction apprentices earn an average of $144,000.
In Minnesota, jobs for Construction Laborers will grow 7.1 percent from 2020 to 2030.
37 percent of LIUNA Minnesota Apprentices identify as women, minorities or veterans*
*Figures provided by the Minnesota Department of Labor and Industry, Apprenticeship Minnesota on October 2022.